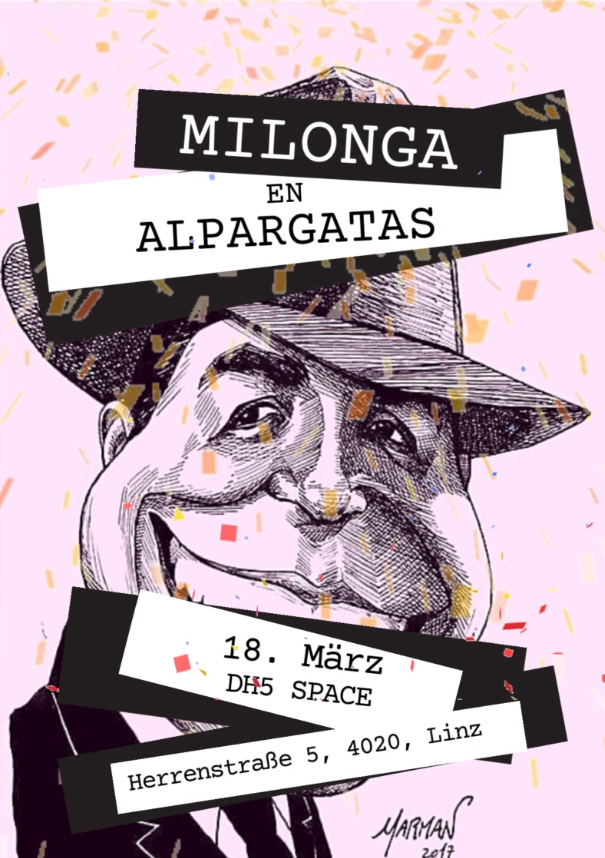 Milonga en Alpargatas
Dear Tanguer@s,
It is my pleasure to invite you once again to the PRACTICA de TANGO in Linz! A relaxed space to share doubts, seek answers and generate new questions. But mainly a meeting place to share embraces and our passion for dancing.
On this occasion, "MILONGA en ALPARGATAS" a Tango Práctica will take place on Saturday 18th of March from 19:00 till 23:00 in Damen&Herrenstraße DH5 (Herrenstraße 5, 4020, Linz).
The proposal for this meeting will be structured in the following way:
– Warm-Up Class from 19:00 till 19:45 with Marcela López with the amazing support of Diego Gigena Ivanovich. During the first 45 minutes of the Práctica we will introduce the basic steps and structure of a "Chacarera"
-Práctica from 19:45 till 23:00 the "pista" becomes a place to practice and explore tango. I will be there for individual wishes and needs of the participants
-Live Concert with the wonderful artists: Fatima El Kosht and Diego Gigena Ivanovich
-DJ without "Tandas" by Michael Hulek
Eintritt: Freiwillige Gabe, Orientierung 15€, Vorverkauf 10€
The main idea is to enjoy the meeting in a relaxed atmosphere and open to integration.
The music will be a mix of different trends and styles.
Please save the date and do not hesitate in contact me if you have questions…
Thanks for sharing the info and looking forward to seeing you again!
Big abrazo for everyone,
Marcela